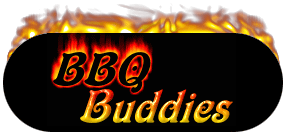 Looking for a great Father's Day gift? It seems that most dads like to barbeque, so why not give your father or any other man in your life a gift that he will enjoy for years to come - the BBQ Buddy.
The BBQ Buddy would make a great Father's Day gift for those times when he's grilling outdoors. The BBQ Buddy is a unique barbecue basting tool that lets you apply barbeque sauces to your outdoor grilling foods without the sloppy mess that is usually made with standard bbq brushes.
Custom Search
The great advantage of the BBQ Buddy is that the BBQ Buddy screws right on to the barbecue sauce bottle and with is patented release lever allows your barbecue sauce to flow right onto your outdoor grilled foods. This unique bbq basting tool also comes with its own bbq brush cover to use when your bbq brush is not in use. The BBQ Buddy leaves virtually no mess and is a dishwasher safe barbecue basting tool.
If your're looking for a great Father's Day gift that mom can use and enjoy too, then the BBQ Buddy is the gift for you to choose.
Click here to view more details and order the BBQ Basting Buddy Now